At London Calling Coffee Company we've been drinking it for years and we want you to enjoy beautiful espresso coffees and not some of the dishwater that's being served out there. We're also sick and tired of being told what we will and won't like by some arrogant bearded barista who can't spell your name properly!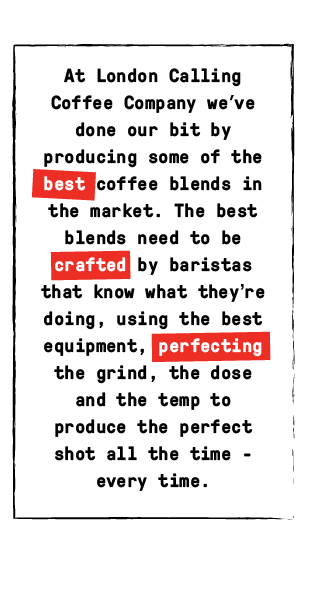 At London Calling Coffee Company we have more than 10 different coffee blends including blended coffees, 100% Arabica, Fairtrade and decaffeinated options. We also have bulk brew and filter coffees as well as cafetiere coffees. All coffees are available in either 1kg catering packs or retail 250g packs.


Our original blend 'London Calling' has chocolate biscuit and butter in the aroma with smooth marzipan and subtle honey-roasted nut. Progressing to a rich, smooth butterscotch and hazelnut flavour in the finish with a golden cream.
Using the right equipment is a very important part of producing a great espresso and a good barista should know how to clean and check his equipment every day. London Calling Coffee Company can help you with equipment training to ensure your coffee is served perfectly every time. For any information on training, equipment or any other products please contact us.